2006-2007

A Dream Season Remembered

"In overtime, when Boise State coach Chris Petersen went for the 2-point conversion, it wasn't because he's a gambler. It was mercy.

Emotionally, we couldn't take any more."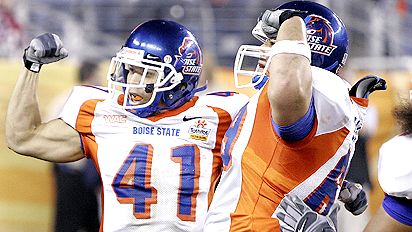 1/1/2007
BSU 43 OU 42
---
BSU CELEBRATION PARADE WAS TODAY....
TAMBRA AND ME AT THE BSU CELEBRATION PARADE....
PICS BELOW...
WOW....WHAT MORE CAN YOU SAY....DO YOU BELIEVE IN MIRACLES???
The nation learned tonight what we in Boise already knew......
I have NEVER been through a more emotional sporting event in my life.
Boise State 43 Oklahoma 42
The "little" dawg had a much BIGGER bite!!!!!
GO FLORIDA!!!!
---
It's 1:30 am right now. The party is still going on in downtown Boise. Hopefully everyone will
party smart. What a game. Simply unbelievable. It's bedtime now. But tomorrow brings
updates to this page. Videos, etc. And here are a few links to some good stories
already on the internet.
GO BRONCOS !!!!
---
NEWS LINKS and more!!!
AN AWESOME AND MOVING BSU VIDEO...HERE....Thanks Maria!!!
MY BSU VICTORY VIDEO HERE
MY "ASS" WAS AT THE GAME...
CHECK OUT THE ESPN FORUMS...SEE WHAT FOLKS ARE SAYING...HERE
FRESNO BEE ARTICLE -here is one quote that I couldn't agree with more:
"In overtime, when Boise State coach Chris Petersen went for the 2-point conversion, it wasn't because he's a gambler. It was mercy. Emotionally, we couldn't take any more." Amen...couldn't have said it better....make sure to read the rest...and thanks David, for sending it to me.....
---
"MY TAKES"
Written Monday night....
Broncos' Triumphant Return
The Boise State football coaching staff and about 25 local players will land in Boise at 3:45 p.m. on a chartered plane, and then head immediately to the Varsity Center on the BSU campus. Fans are encouraged to come support the Broncos at the Varsity Center as they bring their victory celebration home. Stay with KTVB.com and Idaho's Newschannel 7 for live coverage of the Broncos' return.
Written Tuesday night...
I get to head to work tomorrow and celebrate with all my co-workers...several who went to the game. My "ass" also went...so i'll get to post some pics of that. I went to the stadium today to welcome the team back. It was awesome. What a great turnout for a Tuesday afternoon. Check out the video I posted on YouTube. The link is above.
Looks like Ian Johnson is headed to new York for some morning show interviews. I'll try to record and post.
I also have been reading the ESPN message boards. Looks as though we gained some respect from some folks, but there are still lot's of non-believers. Also some BSU fans claiming a share of the national title. That's taking things a bit too far. Let's be happy we did what we did and let everything else take care of itself. Also lot's of people complaining about our "strength of schedule". Well, if some of those schools wouldn't be too chicken to play in our house, we would play em'....
Written Wednesday Night.....
Finally got to see Rome is Burning from 1/2/07. Awesome to hear Rome giving us props. Also saw on the local news that Championship Fiesta Bowl merchandise is blowing out the doors and they cannot keep it in stock. Imagine that. Guess i'll have to get down there this weekend!!! Looks like the video is getting some hits! Very kewl!
This game has already become an instant classic.....and rightfully so.....
---
PICS FROM THE BSU/OU GAME
from
---
Thanks Chris Meyers....for blowing Ian's proposal....
BSU vs NEVADA
we had to win this to go to the Fiesta Bowl
Adam and me in "war paint"
BSU vs NEVADA VIDEO HERE
ME ON ESPN RUSHING FIELD.... HERE
ADAM ON ESPN... HERE
GET IN ON THIS ESPN MESSAGE BOARD... HERE HELP US FELLOW BRONCOS OUT!!!
DAVID, FROM DTV, AT THE UTAH GAME....HERE
ERIC, ONE OF MY TEAM MEMBERS, IN RENO WAR GEAR!!!
"MY TAKES"
USC loses to UCLA....how fitting!!!
They never deserved to be ranked #2 anyways!!! Karma, baby, Karma!!!
Video of the Day!!! here Jay Leno talks about BSU win over Oregon...lol...
You might be a redneck if……you get buried in a coffin that looks like this. I heard that Oklahoma is making 20,000 of these in anticipation of the high suicide rate after the Fiesta bowl.
<![if !vml]>
<![endif]>